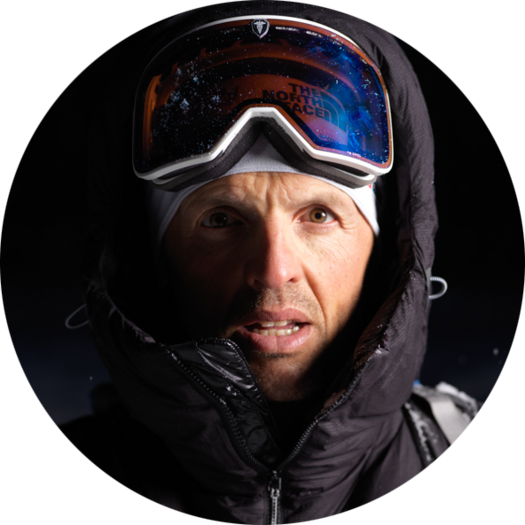 Alpinist & Alpine Explorer
He climbs 8,000-meter peaks in the depths of winter and carries out rescue missions at altitudes of over 6,000 meters. To do this, the Italian alpinist has developed new training techniques and pushed the limits of helicopter performance, for which he has won several awards. He has also written 13 books and helped build a hospital and a school in remote regions of the Himalayas.
Latest news
In October 2023 Simone went back to Nepal on an expedition on Pumori mountain, continuing his unparalleled adventure journey.
Simone is the only mountaineer who has successfully climbed four 8,000-meter peaks during the perilous depths of winter. This is but one example of his countless extreme expeditions and projects over the past few decades.
The Italian's willingness to take risks and his versatile set of skills distinguish him from other high-altitude mountaineers. He has endangered his own life many times in rescue operations in extreme conditions and altitudes, for which he has received numerous awards.
helicopter rescue services
Simone is also a helicopter pilot specialized in rescue missions in the Himalayas. In 2012, he carried out a long-line rescue on Tengkangpoche at an altitude of over 6,400 meters, an extremely dangerous operation that illustrates his exceptional piloting skills. His high-altitude helicopter rescues have set records, and the combination of his alpine experience at extreme altitudes and his piloting expertise led him to develop new techniques and establish his own helicopter rescue services in the Himalayas.
Author, speaker & instructor
Simone has shared his experiences in 13 books. These insights into his alpine adventures, his thoughts on and philosophy regarding mountaineering, motivate and set standards for others. As a charismatic speaker and motivational instructor, he shares his knowledge and conveys his values to a sizeable global audience.
I'm not an extreme alpinist. I am an alpinist with a lot of dreams.
Simone Moro
Simone is also involved in social projects in Nepal and Pakistan. He built a school and a hospital, providing education to children and improving medical care in hard-to-reach areas. His projects and his involvement in various Himalayan regions illustrate his deep connection with the people who live in these mountains.
Simone plans to use the award money to cover some of the costs of his helicopter rescue operations, as many of those involved do not have sufficient financial resources to cover the costs of the rescue.